Discover Bergen on Foot: A 4 km Free Walking Tour Bergen through Norway's Charming City
Looking for a free walking tour Bergen, Norway's picturesque coastal city? You're in luck! This 4 km hiking route through the central part of Bergen will guide you through the city's most iconic sights and hidden gems. Put on your comfy shoes and get ready to explore the heart of this charming city!
 Your 4 km Bergen adventure
Begin your free tour Bergen at the historic Bergen Fish Market, a bustling hub of activity since the 1200s. Take in the sights, sounds, and smells of the market, as you browse the fresh seafood, fruits, and vegetables on offer. Don't forget to sample some of the local delicacies, like the freshly grilled fish, before continuing your journey.
Next, head to the nearby Bryggen Wharf, a UNESCO World Heritage site that showcases Bergen's rich Hanseatic history. Stroll along the wooden walkways, admiring the colorful merchant buildings that date back to the 14th century. While you're there, take the opportunity to explore the fascinating Hanseatic Museum and Schøtstuene, which provide an insight into the lives of the Hanseatic merchants who once lived and worked in Bryggen.
After exploring Bryggen, make your way to the nearby Bergenhus Fortress, one of the oldest and best-preserved fortresses in Norway. Wander around the impressive grounds and visit the imposing Rosenkrantz Tower, which offers stunning views of the harbor and city. Be sure to also check out the medieval Haakon's Hall, a former royal residence and banqueting hall that dates back to the 13th century.
Continue your free tour Bergen by climbing up to Fløyen Mountain, one of the city's seven surrounding mountains. You can either hike up the winding paths or take the funicular railway (Fløibanen) for a small fee. Once at the top, you'll be rewarded with breathtaking panoramic views of Bergen and the surrounding fjords. Take some time to explore the numerous walking trails, or simply relax in the scenic surroundings.
As you make your way back down Fløyen Mountain, head towards the Bergen Cathedral, a striking Gothic-style church with a history that dates back to the 12th century. Admire the impressive exterior and step inside to marvel at the beautiful stained glass windows, intricate wood carvings, and magnificent organ. Be sure to check the schedule for any upcoming concerts or services during your visit.
After exploring the Bergen Cathedral, immerse yourself in the city's thriving arts scene at the Bergen Art Museum, also known as KODE. With four separate buildings showcasing a diverse range of artwork, from classical to contemporary, you'll find something to suit your artistic taste. Don't miss the extensive collection of works by renowned Norwegian artist Edvard Munch, as well as other local and international artists.
Wander around the Old Bergen Museum
Next on your free walking tour in Bergen, step back in time at the Old Bergen Museum, an open-air museum that offers a glimpse into the city's past. Explore the collection of more than 40 historic wooden buildings, which have been carefully restored and relocated to the museum grounds. As you wander through the charming streets, you'll encounter actors in period costumes who bring the 18th and 19th-century atmosphere to life.
Finally, wrap up your 4 km hiking adventure at the Fjellveien viewpoint, a popular spot for locals and visitors alike to take in the stunning panoramic views of Bergen and its picturesque surroundings. Relax on one of the benches, snap some photos, and reflect on the unforgettable journey you've just completed through the heart of this beautiful city.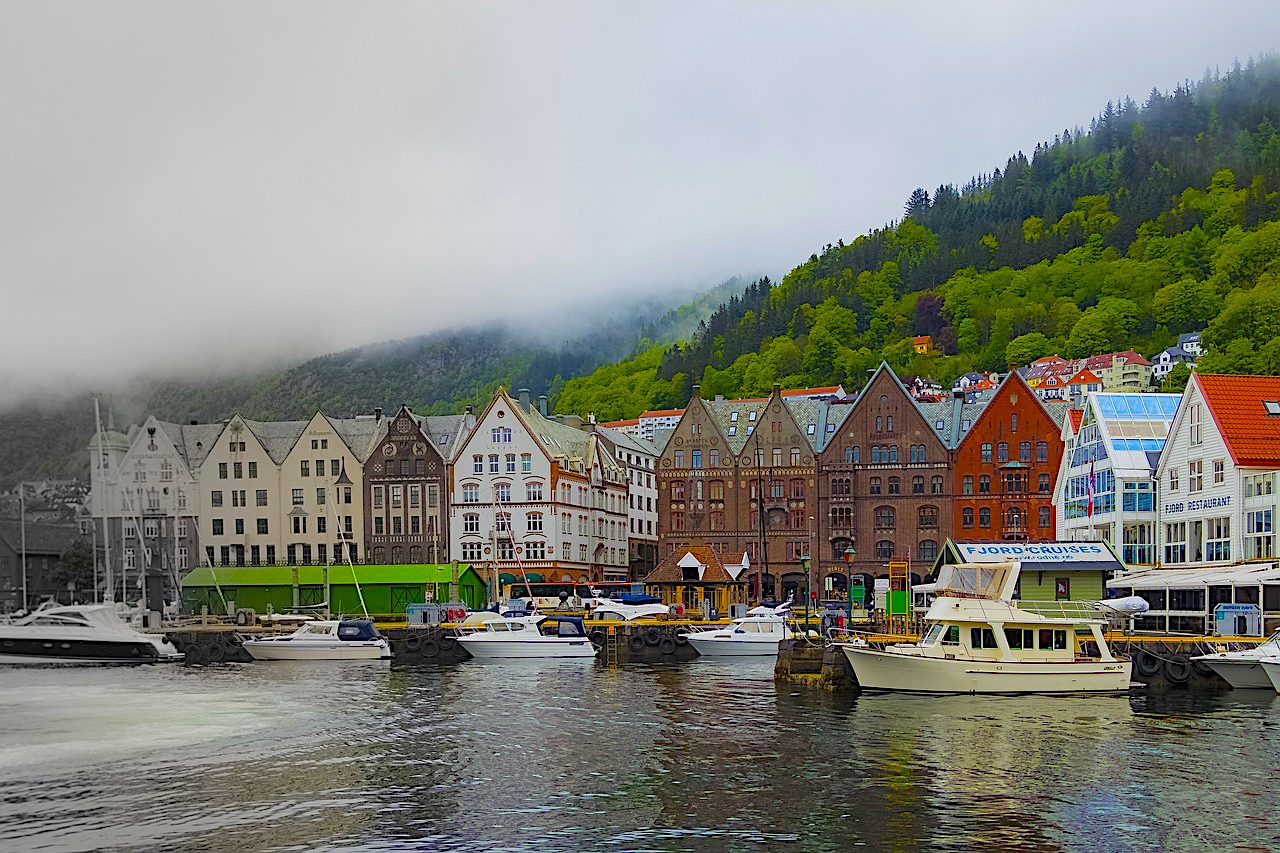 Over the course of this 4 km free tour Bergen, you've experienced the best the city has to offer, from historic sites to breathtaking viewpoints. You've wandered through the vibrant Bergen Fish Market, marveled at the colorful Bryggen Wharf, explored the Bergenhus Fortress, taken in the views from Fløyen Mountain, visited the beautiful Bergen Cathedral, immersed yourself in the arts at the Bergen Art Museum, stepped back in time at the Old Bergen Museum, and ended your journey at the Fjellveien viewpoint.
As you reflect on your Bergen adventure, it's clear that this coastal gem is more than just a gateway to Norway's famous fjords—it's a city rich in history, culture, and natural beauty, just waiting to be explored. Whether you're a seasoned traveler or a first-time visitor, this 4 km hiking route offers an unforgettable experience that you'll cherish for years to come.
Now that you've completed this 4 km free walking tour , you may be inspired to discover even more of what the city and its surroundings have to offer. Bergen is not only a captivating destination in itself but also serves as a perfect base for exploring the majestic fjords and picturesque villages of Western Norway. Here are a few suggestions for your next adventure:
Take a fjord cruise: Embark on a fjord cruise from Bergen to experience the awe-inspiring natural beauty of Norway's famous fjords, such as Sognefjord and Hardangerfjord. These cruises offer the opportunity to witness towering waterfalls, dramatic cliffs, and idyllic villages along the way.
Visit the picturesque village of Balestrand: Hop on a ferry to Balestrand, a charming village nestled along the shores of the Sognefjord. With its historic wooden buildings, scenic walking trails, and fascinating art galleries, Balestrand is sure to captivate your heart.
Explore the Folgefonna National Park: Venture further afield to the Folgefonna National Park, home to the third-largest glacier in Norway. Hike through lush forests, past cascading waterfalls, and up to the glacier itself for an unforgettable experience.
Unwind in a traditional Norwegian cabin: Immerse yourself in the serene natural beauty of the Norwegian countryside by staying in a traditional wooden cabin, known as a "hytte." These cozy cabins offer the perfect retreat to relax and unwind after a day of exploration.
Free Walking Tour
In conclusion, your 4 km walking tours Bergen has offered you just a glimpse of the incredible experiences that await you in this enchanting city and its surroundings. Whether you choose to delve deeper into Bergen's rich history, embrace its thriving arts scene, or venture out to explore the breathtaking fjords and picturesque villages of Western Norway, there's no doubt that Bergen will leave a lasting impression on your heart.
As you reminisce about your free tour Bergen and the unforgettable memories you've created, you may wish to share your experiences with fellow travelers and inspire them to embark on their own Bergen adventure. One way to do this is by joining online travel forums, social media groups, or writing a blog about your free walking tour.
In your online contributions, highlight the key attractions you've visited, the friendly locals you've encountered, and any hidden gems you've discovered along the way. By emphasizing that this 4 km walking tour is free, you'll encourage budget-conscious travelers to experience the many wonders of Bergen without breaking the bank.
Additionally, you may consider teaming up with local tour guides or businesses to create a downloadable PDF map or a smartphone app for the free walking tour . This would make it even more accessible to travelers from around the world, ensuring they can easily navigate the city and discover its most iconic sights.
Lastly, don't forget to leave reviews and ratings on popular travel websites like TripAdvisor, Lonely Planet, or Yelp for the attractions you've visited during your free walking tour. This not only helps fellow travelers make informed decisions but also supports the local businesses and tourist sites in Bergen.
As you continue to explore the world and create new memories, remember that sharing your experiences and knowledge about places like Bergen can inspire countless others to embark on their own adventures. By promoting the free tour , you'll play a part in helping travelers discover the captivating charm, rich history, and breathtaking beauty of this remarkable Norwegian city.
In conclusion, this free walking tours Bergen has provided you with an immersive experience, showcasing the best that this picturesque coastal city has to offer. By embarking on this 4 km adventure through the heart of Bergen, you've not only had the opportunity to explore its rich history and vibrant culture but also discover hidden gems and breathtaking panoramic views.
The free walking tour is the perfect way for budget-conscious travelers to dive into the essence of Bergen without spending a fortune. With its diverse range of attractions, from historic sites like the Bergen Fish Market and Bryggen Wharf to natural wonders like Fløyen Mountain and the Fjellveien viewpoint, this tour caters to a wide variety of interests and ensures that every visitor will find something to captivate their heart.
Furthermore, by promoting the free walking tour concept, you're encouraging responsible and sustainable tourism in the city. As travelers explore Bergen on foot, they reduce their carbon footprint and contribute to preserving the environment, making this beautiful city an even more enjoyable destination for future generations to discover.
As you reminisce about your free walking tour Bergen experience, consider sharing your stories and insights with fellow travelers on social media, travel forums, or even by creating your own travel blog. By sharing your knowledge and passion for Bergen, you'll inspire others to embark on their own adventure and make lasting memories in this enchanting Norwegian city.
Moreover, by leaving reviews and ratings on popular travel websites for the attractions you've visited during your free walking tour, you'll not only help fellow travelers make informed decisions but also support the local businesses and tourist sites in Bergen. This, in turn, contributes to the city's thriving tourism industry and ensures its continued success as a top travel destination.
So, whether you're a seasoned explorer or a first-time visitor to Norway, this free walking tour Bergen offers a unique and unforgettable journey through the city's most iconic sights and hidden treasures. As you continue your travels, let the memories of this incredible walking tour inspire you to seek out new adventures, explore new destinations, and embrace the wonders of our diverse world.
In the end, the free walking tour is much more than just a way to see the city's top attractions; it's an opportunity to connect with the heart and soul of this vibrant coastal gem. By walking in the footsteps of Bergen's past, you've become part of its ongoing story, creating your own unforgettable chapter in the city's rich history. Happy exploring, and may your future adventures be just as rewarding and memorable as your time spent discovering the captivating beauty of Bergen, Norway.